I'm selling unlocked Amazon Fire TV Sticks with the latest version of KODI that has Live TV and almost every movie and TV show ever made available. No need for illegal downloading, everything is streamed and ad-free. You can watch almost any movie or TV show minutes after it's aired by it's network. You can access MP3 Music of all kinds from old skool to new skool. Live Sports channels like NBA, MLB, NFL, NHL games are available, HD Movies, Pay Per View events, and Adult content are also available which can be disabled so kids won't have access too. You must have Internet access to take advantage of this hookup! Keep in mind that ALL CHANNELS AREN'T GUARANTEED TO WORK so don't get rid of the Cable just yet all you have to do is downgrade your service to save money!!! I'm being 100% Real with you. The only thing I cancel was Hulu, Netflix, and WWE network, The Cable I just downgraded because I was paying over $260 a month which was uncalled for lol

So all you need is good wifi connection and a HDMI port on your TV

I use a Custom Kodi which is setup for easy use

Add-ons like Exodus, m4u, Phoenix, SportsDevil, Live Mix, 1Channel, and much more are installed

-Movies in SD & HD
-TV Shows
-Live Sports like NBA, NFL, NHL, MLB, & Soccer
-Music
-Documentaries
-Cartoons
-Stand-Up Comedy
-Classic TV Series
-Pay Per View Events like WWE, Boxing, UFC, and More!
-Adult content ( I can disable )
-Workouts Videos
-Food Network
-WWE Network
-And Much More...

Text me @ 917.548.5634 if you are Interested

The cost of going to the Movies, and Cable TV all has risen over the years so save money now!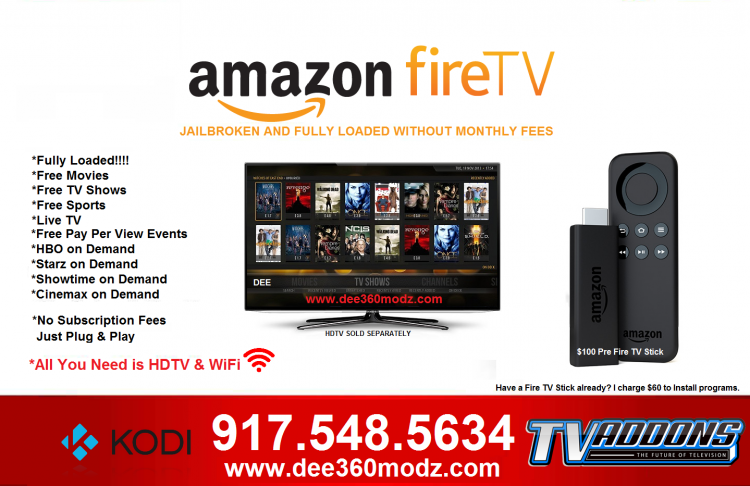 IF YOU WOULD LIKE TO ORDER A AMAZON FIRE TV STICK GO TO MY NEW WEBSITE AND MAKE AN ACCOUNT AT

www.deefiretv.com